Thor Comes Calling to Calgary
My dear Debra,
Just a very quick note to let you know that I have hurriedly sent Thor on his way to Washington.  You can have him.
When Thor's travels brought him to Calgary, I was thrilled.  I welcomed him into my home. He relaxed from his journey. He liked my two dogs, but wasn't impressed that they wanted to carry him around.  Fear not, Thor, I'll protect you.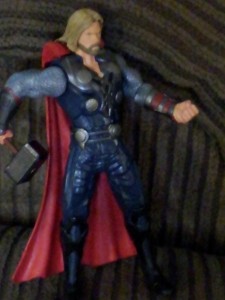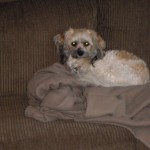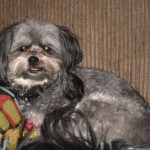 I was delighted to tell my friends about Thor's arrival. Since this is a G-rated blog, I won't tell you some of the comments they  made about hosting a single man with a big hammer in my humble abode. My granddaughters thought he was a perfect playmate for Barbie and Tinkerbell.  Thor was not amused.
I looked forward to taking him to the Calgary Tower, or maybe a professional hockey game.  I hate hockey, but I was willing to make the sacrifice for this hunk of burning love,  to give him a sense of our community. Alas I was not given the chance.
You told me that Thor was the God of  thunder, lightning, storms, and strength. He's also supposed to be busy protecting mankind and being the God of hallowing, healing and fertility.  Hmmm not so much, in my opinion.
About the time he arrived from England, he must have waved his hammer in the box, for it snowed and snowed. Way too early for snow in Calgary but what can you do?
I have to say, Thor seemed to love it. I think it's his Norse heritage—you know the Scandinavian countries get lots of snow. He threw himself on to my deck with abandon…he loved our weather.
But the weather cleared and the snow melted and I was about to take him around town when he turned petulant again. He said it was because of how my killer guard dogs looked at him, but I think he was over-reacting. In a fit of pique, he waved that damned hammer and we've had record snowfall. Two days of it. About ten inches.
Fed up and sick of shovelling, I wrapped him up and took him out to the car, but the hammer-wielding God escaped. He jumped into the snow and tried to get away from me.
Never let it be said that a muscular over-opinionated yahoo God can outrun an irritated, fed up almost senior citizen.  I jumped on that snow-devil and  threw him into my car. He was delivered to the courier to take him to Washington. Maybe they can control his hammer-wielding tendencies and how it messes with the weather.
Rest assured, Debra I don't hold  you responsible for his poor manners.  Just because he likes snow, doesn't mean he had to blizzard on our parade.
If you want to see the mess I mean the travels of Thor, you can see his itinerary on Debra's blog. I won't be watching for him.  He and I have issues – serious issues. He can take his hammer and…well you know what he can do with it.
Good luck to my American friends dealing with this hammer wielding egotist.