The Newest Next Big Thing
Today's post is thanks to author of many genres, Kristy James.  She published Enza, one of my favorite books of all time.  Now she has Erin's Christmas Wish coming out soon.  I can't wait to read it.
 So what are the rules for this blog hop?
 *Give credit to the person / blog that tagged you
* Post the rules for the blog hop
*Answer these ten questions about your current WIP (Work In Progress) on your blog
*Tag five other writers/bloggers and add their links so we can hop over and meet them.
1. What is the title of the work?
This novella, part of the Bandit Creek series, is called Christmas on the Run.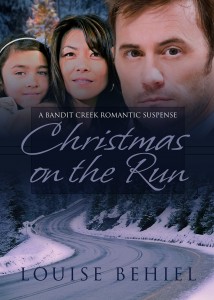 2. Where did the idea for the book come from?
Bandit Creek is a series of 30+ books set in the fictional town of Bandit Creek Montana. There are a variety of settings, time and genres in the series. This book is a romantic suspense.
I wanted to write a story about a woman on the run who wasn't an abused wife and who didn't fear for her own life. Why would that happen? What would make a woman grab her daughter and leave everything behind? As I thought about that, I realized that if a woman learned that her life was a lie, then she'd run as fast as she could, until she couldn't run anymore. Of course, that had to happen in Bandit Creek.
3.     What genre is the book?
Romantic Suspense
4.     Which actors would you choose to play your main characters?
Can I skip this question? I haven't the foggiest idea, since I rarely watch movies.
5. What's a one sentence synopsis for your book?
When a woman who doesn't trust her judgement of others meets a man who wants nothing to do with a woman in need, honesty becomes the only solution to their problems.
6.     Will your book be self-published or represented by an agency?
 Christmas on the Run was  released on Amazon on December 15, but given the events on the news, I decided to delay any promotional work
7.      How long did it take you to write this book?
Writing the novella only took about 6 weeks, but it took forever to edit it.
8.     What other books would you compare this book to?
This is a Christmas romance, with a touch of suspense thrown in – as are many books released at this time of year.
9.     Who or what inspired you to write this book?
This book is totally the result of the Bandit Creek consortium. Given a setting and a cast of characters made this an interesting book to write, especially since I knew from the beginning my heroine would not be a resident of the town.
10. What else about your book might pique the reader's interest?
I love Christmas, especially in the mountains. The falling snow, the lights, and the decorated tree all combine to make the season magical.  But life does not stop for the holidays. The juxtaposition of the worst possible outcome in my heroine's life against the holiday season was an intriguing idea, especially when she's on the run.
I've chosen to tag the following authors, mostly because I know they've either released a new book recently, or they're working on something that will be out soon. I hope you enjoy their work as much as I know I will.
Victoria Chatham writes rich historical romance and has a new release in January. She can be found at
https://www.amazon.com/author/victoriachatham  OR
www.facebook.com/Victoria-Chatham
Vivianna, who also writes as Tawny Stokes always has something on the go.  Her next release will be on January 1, 2013. It is the final book in the Bandit Creek Series. Tawny is a huge part of the enthusiasm and focus of the 30 Banditos who came together in this series. She can be found at:
Katie OConnor is a hot, hot, hot author who will be guest posting here about her next release.
There are two authors I was going to mention but they asked me to wait a bit to tag them, so stay tuned for information about their upcoming releases.
Thanks again, Kristy for tagging me.  Here's hoping for much success in your publishing journey – you absolutely deserve it.