Happy New Year and Blog of the Year
What a wonderful year it's going to be.  How do I know?  Because I decided. I set the intention. I made the plan.  <vbg>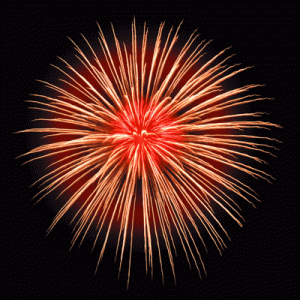 The year started off wonderfully in my house. About 11:30 last night, my daughter called from a party they attended with some friends they met at my granddaughter's school.  If I was up, they were going to come over on their way home and welcome in the new year with me.  What a treat!  I was working on my chapter's books (I'm the treasurer) but put them away faster than you could say "Auld Lang Syne".
The girls were still going strong, although the little one fell asleep at 12:05.  I'm sure they slept long and hard last night.  They didn't stay long but it was such a treat to see them.  And today, for excitement, I'm going to finish the books.  LOL
I'll post some information about setting goals and making plans next week, but for now, I want to thank John Holton for nominating my blog for Blog of the Year. What an honor.  John mentioned that he had learned some things from my posts, for which I'm very grateful. Thank you John for including me in your power-packed list of bloggers
Blog of the Year Award Rules
The "Blog of the Year" award is a little different from some other awards, because you accumulate stars.
Here are the 'rules' for this award:
Select the blog(s) you think deserve the 'Blog of the Year 2012' Award
Write a blog post and tell us about the blog(s) you have chosen – there's no minimum or maximum number of blogs required – and 'present' them with their award.
Please include a link back to this page 'Blog of the Year 2012' Award –http://thethoughtpalette.co.uk/our-awards/blog-of-the-year-2012-award/ and include these 'rules' in your post (please don't alter the rules or the badges!)
Let the blog(s) you have chosen know that you have given them this award and share the 'rules' with them.
You can now also join our Facebook group – click 'like' on this page and you can share your blog with an even wider audience
As a winner of the award – please add a link back to the blog that presented you with the award – and then proudly display the award on your blog and sidebar … and start collecting stars…

Yes – that's right – there are stars to collect!
Unlike other awards which you can only add to your blog once – this award is different!
When you begin you will receive the '1 star' award – and every time you are given the award by another blog – you can add another star!
There are a total of 6 stars to collect.
Which means that you can check out your favourite blogs, and even if they have already been given the award by someone else, then you can still bestow it on them again and help them to reach the maximum 6 stars!
For more information check the FAQ on The Thought Palette.
_________________________________________________________
Many thanks to John, I appreciate your recommendation more than you can know.  If you're looking for a blog with lots of information, videos and facts about music and musicians, John's home is the place to go.  I learn every time he posts. I can't encourage you enough to check out the blogs he's recommended – they're all excellent.
Here are my recommendations:
1.  Steena Holmes has had a wonderful year going from an indie-only author to a hybrid author who will soon be traditionally published author.  Steena has been more than generous in sharing her personal journey as well as the lessons she's learned.
2. Diane Capri writer killer suspense novels and is an exciting addition and strong leader to the indie publishing community.  And she's always willing to help those who are just starting on their journey, as evidenced by her 'Diane Capri Reveals' series.
3. Rhonda Hopkins is a woman who goes to ridiculous levels to support and help other writers.  Her blog has many interesting features, including "Authors Give Back" an opportunity for writers to share information about and links to their favorite charities.
4. Sheila Seabrook is another incredibly supportive blogger who is always willing to extend her hand to others. Check out her posts on the Bandit Creek books – I guarantee you'll find a book you enjoy.
5. Tameri Etherton posts on many topics but her New Year's post is worth this award.  She's full of humor and fun and always adds a light touch to every topic.
There are many great bloggers out there.  I could have nominated many others in the recovery world and in the 'personal development' world, but I controlled myself.  To those I nominated, thank for enriching my life and my world.  Here's to a very successful 2013 for each of you.
——————————————————————————————