I'm Not Crazy! Are You Crazy?
Mental health is a tenuous thing. We all want it. And yet many of us struggle with it every day. Think of the people you know who suffer from anxiety or depression.  The numbers are staggering.  Officially one in five of us will experience a mental illness at some time in our lives. The other 4 of us will be impacted by someone who is mentally ill.
So what is it?  First of all, mental illness isn't one thing. It's a continuum of health. For mental health, it would look like this: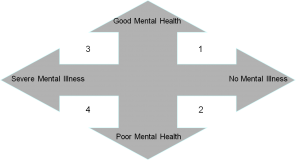 The presence of good mental health doesn't preclude the presence of a mild mental illness.  That's a spot on the conundrum that's hard to get my head around, but I think of it this way: maybe I have an anxiety disorder  and maybe I'm on medication for that illness but I'm coping with it well.  That would suggest I have decent mental health (on the upright axis) along with the presence of a managed mental illness (the middle of the horizontal axis).
There's been an interesting shift in medicine as researchers try to focus on promoting mental health, rather than treating mental illness.
We all think we know what mental illness is. (By the way, the new proposed name is mental disorder.) After all, we see it in people walking on the streets, dirty and unkempt and talking to themselves. But it's much more than that.
Officially, mental illnesses are characterized by alterations in thinking, mood or behaviour associated with significant distress and impaired functioning.  http://www.phac-aspc.gc.ca/cd-mc/mi-mm/index-eng.php and Health Canada, Report on Mental Illness, 2002.
DSM 5 defines it this way: A Mental Disorder is a health condition characterized by significant dysfunction in an individual's cognitions, emotions, or behaviors that reflects a disturbance in the psychological, biological, or developmental processes underlying mental functioning. Some disorders may not be diagnosable until they have caused clinically significant distress or impairment of performance. 
What a lot of words. Here's my simple definition: A Mental Illness or Disorder is a disruption of the chemistry or biology of the brain that shows up or manifests in behaviour. Simply put, because of a change in our brains, our behaviour changes and may no longer be acceptable to those around us.
Mental illness is a huge problem in our society. And it's made worse by our fears and misunderstandings about these disorders. We have a tendency to blame the person for their behaviours. After all, we are responsible for what we do, right?
We think (or say) get over it. If you're feeling bad, get out of bed and do something. Before you know it, you'll be back to normal. But what if a slight change in the levels of the neurotransmitters in your brain made facing the day impossible? What if those same chemicals that make thinking and feeling possible didn't work quite right and the result was paranoia (great fear) or anxiety (lesser but still big fear).
We wouldn't dream of telling someone who just had radiation or chemotherapy to get up and walk it off – they'll feel better sooner. And yet, this is often what happens to those with depression.
When someone has a heart problem, we don't blame them. But when someone hears voices or puts tinfoil on their windows, we often do. Yet the cause of both is physical. And the latter one does not have blood tests or urinalysis to determine what it is
I don't want you to think I'm giving a 'bye' for bad behaviour to everyone who claims a mental illness. I'm not. But please consider that mental illness can be caused by biology, genetics, family stress and environmental stress.  Specifically, medicine thinks that the causes of mental disorders include:
Genetics: Occurrence in a relative or family history
Certain serious infections
Brain injuries, including those occurring pre-natal
Substance abuse (both a disorder and a cause)
Environmental trauma
Psychological trauma
Age (almost half of all mental illnesses start by age 14)
Sex (each gender has particular susceptibilities),
substance abuse,
chronic diseases,
family, workplace, life event stresses
In a previous career, I was a therapist providing support to families with an adult with mental illness. They came to my group for knowledge, understanding and hope. I was able to provide lots of the first two and a reasonable dose of the third.
One of the most heart-warming stories that was shared with us was a woman who was a tenured university professor, as was her husband. Their oldest son was completing a Ph.D at Harvard and the youngest was a double major in Honors Math and Music in his third year of his Bachelor's Degree. Altogether a very accomplished family.
She came to group because she was frustrated with the medical system. She felt they were encouraging her youngest son, who had been diagnosed with Schizophrenia, to throw his life away. Give up school and chill out. She did NOT agree.
But after five weeks with us, fighting and resisting the implication of his diagnosis, she came to us in tears. She and her son had gone walking on the weekend. She commented that she was so glad the year was almost over (it was early December) since it had been the worst year of her life.
He totally disagreed saying it was the best year ever. When she questioned him about his sentiment, given that he's spent four weeks in a psychiatric unit, he said this; "Mom, I've been hearing voices for at least eight years. I thought I was going crazy. Instead I've found out a have a disease – a terrible one, but just a disease. I can get treatment and medication and come much closer to living a normal life.
<deep breath here>
He understood. With treatment there's hope. With stigma, there's nothing but shame.
I don't claim any particular expertise in Abnormal Psychology and I will do my best to keep it simple, but I hope you will join me as we explore the realms of the mind and how it affects our behavior.