Canadian Thanksgiving Weekend. What Did You Do?
Canadians celebrate thanksgiving  on the second Monday of October. We get together with our families and friends, eat too much, drink too much and enjoy.Unlike our American neighbors, our holiday is not about the Pilgrims landing in the new world. Rather, it is a celebration of the fall harvest. It is a statuatory holiday for most companies and in most provinces, except for the Maritimes.
The actual date has moved around a lot, but for the last 50+ years the date has been settled.
 Canadians seem to have moved the actual celebration to any of the days that suits them. In my extended family, we used to plan our celebration to allow for most of us to get together, given the plans of the many in-laws. But in the last few years, we haven't even done this – we all have busy lives and busy families, so we spend the time with them.
 It's been a busy weekend at my house. The weather in Calgary has been extraordinarily warm (for October). We had a light skiff of snow this week but it melted as soon as it landed. This is a miracle for my part of the globe and I am truly grateful.
 I also have some vacay days left, so I took a few extra days around this long weekend, planning to write and work on my book and do other boring stuff.  Imagine my delight when my daughterin-law called to say they'd love to come for the long weekend. I was thrilled, to say the least. So it's been a busy few days. My daughter and her family live only a few minutes away, so they've also spent most of the weekend here. It's been like old times, with a horde (or is it herd) of people, children and pooches around.
We went swimming today at the Westside Recreational Center. It's an awesome rec center and I thoroughly enjoyed the wave pool, the hot tub, the steam room and the 'river'. I did not go on the water slide.  Ahem.  No way. Not me. Although I have to admit I was a little embarrassed when my 2 1/2 year old granddaughter went down by herself. Sighhh
Tonight, we've had a lovely dinner of barbecued chicken and now we're all sitting around, kids on tablets, i-pods, or watching a move, the two guys playing battle pirates on their laptops, my daughter is studying on hers and I'm writing a blog post. My how things have changed.
Yesterday we went to the zoo. Calgary's zoo is incredible. It is large and focused on conservation. And it has a huge dinosaur park.
I decided to follow in the example of so many and post some of the pictures of the animals we saw. I'm not a photographer but the kids loved these animals in particular, so I'm posting for them.
We chose not to wait in line for an hour to see the full penguin display since these little guys were outside enjoying the weather. My youngest granddaughter loves the penguins (and the movie "Happy Feet") and she'd gladly stay there all day.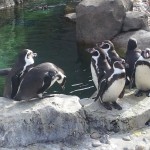 After seeing the new hippo and new giraffe we went outside and saw the zebras.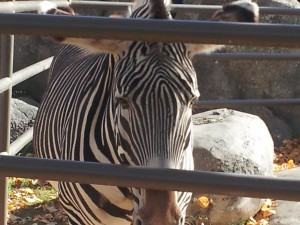 All three of the girls loved the flamingoes, although my grandson preferred the monkeys and gorillas.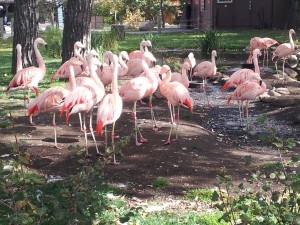 They had lots of questions about this camel.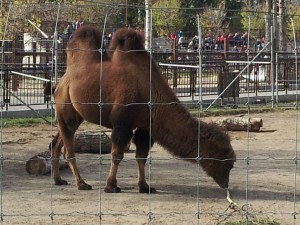 We were there when they fed the Condor a rabbit for lunch (can you say yuck?).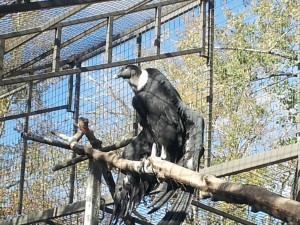 And although this is not a good picture, there are three tiger cubs tangled together in this pile of fur. They were sound asleep the whole time we watched.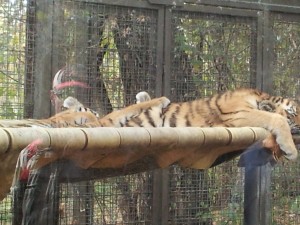 I almost walked by the snow leopards – they blended with their environment so well, they were hard to see.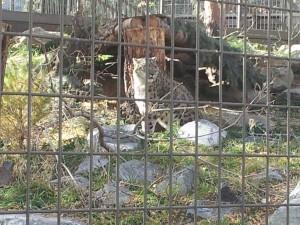 All in all, it was a lovely day, although after six hours of walking around the zoo, I was ready to come home. And everyone slept well last night.
These pics were taken on my Samsung Galaxy IIs phone and it's my first time taking pictures on it. It took a fair bit of time to learn how to get them to my 'puter from my phone and then it was a challenge uploading them here, but … what to heck. Practice makes perfect.
To all my Canadian friends, I hope your Thanksgiving is filled with love and good cheer. To my American friends, feel free to join your neighbors to the north and remember what you're grateful for this weekend.
Happy Thanksgiving