Blog
If you're reading this post and don't know a person who has been depressed (including yourself) please leave a comment below. This malady is so widespread, it is almost commonplace. 1 in 10 of us will have depression in our lifetime and for 1 of 10 of those  it is a fatal illness, culminating in suicide.
That made me sit up and take notice. It's a scary statistic for an illness that seems so common.
Technically, depression is a syndrome in which feelings of sadness, loss, anger or frustration cause problems in a person's life for weeks or longer for which there is not an acceptable cause (like the death of a loved one). It is diagnosed (usually after a physical) by a conversation with a doctor, because there are no medical tests for diagnosis.
As with all the other illnesses included in this series, this is an illness that originates in the brain but whose symptoms are behavioral. From the outside, it looks like the person is wallowing in self-pity and giving in to their own demons. The favorite suggestion is to 'get up and go for a walk. Do something, you'll feel better'. Unfortunately, for someone with major depression that's almost impossible.
What are the symptoms?
Feelings of hopelessness or pessimism
Insomnia or early morning awakening,
Or too much sleeping
Agitation, restlessness, and irritability
Becoming withdrawn or isolated
Difficulty concentrating
Dramatic change in appetite, often with weight gain or loss
Fatigue and lack of energy; feeling slowed down
Feelings of worthlessness, self-hate, and guilt
Loss of interest or pleasure in hobbies and activities that were once pleasurable (including sex)
Thoughts of death or suicide
Persistently sad, anxious, angry, irritable, or "empty" mood
Crying spells
Problems with memory and decision making
Persistent physical symptoms that do not respond to treatment, such as digestive disorders, headaches and/or chronic pain.
Causes of Depression
Nobody knows for sure what causes depression. There's lots of research being done. Part of the problem with determining cause is that it can be different for each of us. Depression is a disorder that co-occurs with many other mental illnesses. It can be the result of alcohol or drug use. And it can start as grief but morph into chronic depression.
Perhaps the simplest description I have heard refers to the level of serotonin in the brain. Remember a couple of months ago, we talked about the structure of the brain, including the neurons and neurotransmitters. I've recopied the image for you.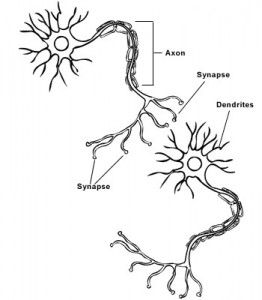 The passage of an electrical charge from one cell to the next (across the synapse) is accomplished when that charge is encased in a drop of a neurotransmitter. But the receiving cell has its own neurotransmitter, so it strips it off when it absorbs the electrical charge. This would leave an extra amount of the chemical in the brain fluid. It isn't much on an individual cell basis, but remember these exchanges happen two trillion times a second in the brain.  So it would make a difference to the chemical make-up of the brain fluid.
Our brain cells, in their amazing wisdom take this into account. The dispatching cell 'sucks up' the chemical it released with the charge. Think of this as a vacuum cleaning up the unwanted material.
By now, you're probably wondering what this has to do with depression. Well it's actually relevant and pretty simple. If the vacuum on the releasing cell runs too long, it will remove some of the serotonin from the brain fluid. (Think of this as getting too close to the shear drapes with your vacuum.)
If you have low levels of serotonin in your brain, you have depression.
There is some thought that there is a genetic link, especially with the depression of Bipolar Affective Disorder
So how is it treated?
Usually a doctor will prescribe a low dosage of an SSRI (Selective Serotonin Reuptake Inhibitor). These are commonly known as Paxil, Zoloft, Celexa and Prozac.
The purpose of this family of drugs is to shut off the vacuum (the reuptake mechanism) sooner, by only by a nano-second, since everything must be in balance. The doctor will tell you to come back in a month. And if you haven't had a relief of your symptoms, he will likely prescribe a higher dosage of the same drug. Ditto for month three. If the drug isn't working then, you'll probably have a different drug prescribed. By this time most people feel that medicine doesn't know much and can't help. But perseverance counts. Each drug impacts our system a little different and we have to find the right one, to shut down the re-uptake mechanism at just the right time to create chemical balance in the brain.
It is mostly medicine by trial and error. But it is the only option available to medicine at this time.
A second category of medicine is relatively new. Serotonin norepinephrine reuptake inhibitors (SNRIs), do much of the same thing for Norepinephrine. You've heard of one of these drugs on television, for it includes Cymbalta.
Therapy is also recommended as part of the treatment.
If the depression is severe and unresponsive to these treatments, people may be given electroconvulsive therapy, but that's a post for another day.
I know from personal experience that lots of sunshine is important in recovery as is exercise. Walking is good medicine, once you're well enough to consider it as a treatment option.
What about you? Have you had depression? Know someone who does or did? What was your reaction to the illness?
Credit for fact verification to:
DSM-IV
http://www.medicinenet.com/depression/article.htm
http://www.ncbi.nlm.nih.gov/pubmedhealth/PMH0001941/
Image of sad woman from:
http://www.publicdomainpictures.net/view-image.php?image=19963&picture=sad-woman