9 Steps to Forgiveness
Adults who grow up as abused children have many challenges  in their adult lives.  These symptoms will be discussed in detail in another post.  For victims, it is important that we face what happened to us, learn about its effects on our lives, and then begin the tedious, painful process of healing and recovering.
It's not easy.  The journey to wholeness takes an incredible willingness to face the truth of what was and the possibilities of what might have been.  For most of us, the possibilities are almost beyond imagination.
For an abuse victim, the foundation of his or her life has been blown away.  Restoring that foundation, re-connecting to the dreams, abilities and hopes of that small child are an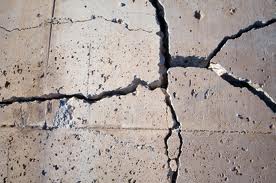 almost impossible challenge.
At some time in the process of healing, forgiveness will raise its head.  Some victims are eager to forgive.  I think they're hoping that with forgiveness will come forgetting and a miraculous cure.  Not in my experience.
I think others hope that forgiveness will restore their relationship with the perpetrator of their abuse.  Sometimes victims think it is the 'right' thing to do.  The religiously correct thing to do.  It is important to note that for some victims, forgiveness is not an issue.  That refusal to forgive is an important part of their healing.
When recovering from trauma, there is no right way.  We each have to fight our own way out of the cage of abuse.  But for those of us who need to forgive to heal, it's important to come to terms with that word and what it means.
The free online dictionary defines forgive as:
To excuse for a fault or an offense; pardon.
To renounce anger or resentment against.
To absolve from payment of (a debt, for example).
These simple definitions never worked for me.  I understood that I needed to renounce my anger against my father.  It was eating me up but not adding anything to my life.  So for a long time I floundered around, trying to define forgiveness in a way that would help me heal.
But how could I forgive when I wasn't sure what it was.  So began a decades long search for answers.  Here's what I came up with:
I wasn't helping myself by not forgiving.
I knew that the recurring anger (or rage), poor self-esteem, and addictive eating were the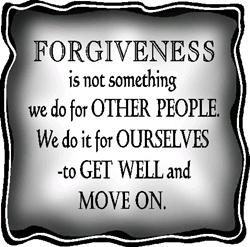 result of the abuse and my inability to move beyond it.  My instincts said that forgiveness was key.
2.  Forgiving him for his choices doesn't make them all right.
For a while I tried to force myself to forgive by reminding myself of his hard life, the abuse he suffered.  But, I didn't take that track with my children.  I wasn't the perfect parent, but I'd worked hard on building parenting skills that took my children raising well beyond everything that had happened to me.
3.  Forgiveness does not put me at risk for more abuse.
I am an adult and I wouldn't allow him to abuse me or my children again.  And I wouldn't be blind to risks from others.  In other words, forgiveness wouldn't make me stupid.
4.  It had to be okay to forgive my parents separately and independently.
While my father was the perpetrator I was equally angry at my mother, who was also a victim.
5.  I wasn't doing dad any great favor by forgiving him.
Ironically, by the time I got to this step in my process, my dad had already passed away.  What did he gain by my behavior?  Nothing.  But it was as if holding on to my feelings made what happened more real.  This was important because it took me a long time to accept that I had been abused.  If he had been alive, he would have been mystified because he didn't think he'd done anything wrong.
6.  Forgiveness takes time.
It is not an immediate process.  It takes time.
7.  Forgiveness meant I had to come to terms with me – my foibles and mistakes that meant I was human.  I did those things – not because I was abused but because I'm human.
8.  Forgiveness does not make me a saint nor does it elevate me into Maslow's self-actualization.  Rather it allows me to live my life as richly as possible.
9.  Ironically some years after I had forgiven my father and was comfortable the process was complete I heard a snippet from Oprah.  She said, (and I'm paraphrasing) "forgiveness is the acceptance that the other person did not behave in ways that met my expectations."  Ironically, I could not have got there if I hadn't taken the prior eight steps and had time for forgiveness to seep into my bones.
Forgiveness has moved from a spiritual tenet  to an important psychological construct.  It is being studied by many researchers.  For some insight into this work go here .
How forgiving are you?  This site has a quick test to help you decide.
http://www.thepowerofforgiveness.com/quiz/index.cfm
In closing, remember that forgiveness is a process for personal healing.